Slotastic Casino
Slotastic casino is an old-time favorite online gambling establishment built on high-quality software and featuring a good mix of games. The site is recognizable and has some promising offers, but we didn't know enough about it at the time to decide if it was worth recommending or not. That's why we put together a complete review of this online casino. Below is that review that looks at the most important features, benefits and downfalls of the site. We like Slotastic casino after reviewing it, read on to find out why that is and if the casino is a good fit for you.
Built on Software with Personality
The casino relies on Realtime Gaming software, which is some of the most bold and interesting software available in the casino industry today. Many of the features offered in the games are pretty standard, but the looks of the games and the different characters make them very interesting to play. Realtime Gaming offers excellent device compatibility, but it's really the themes of the games that pushes the software out ahead of so many others in the gambling industry today.
A Basic and Unattractive Lobby
For all the good things that we have to say about Slotastic casino, the lobby isn't one of the highlights. We were impressed by how simple the site is to navigate around. We weren't impressed with the actual looks of the lobby itself. The graphics are poor and take away from the overall appearance and enjoyment of the site. With that said, it's so functional with simple menus and easy navigation that it really works well for new players.
Approved Nearly Everywhere
There are some casinos that deny players from most of the world access, then there are other options such as Slotastic that make it easy for most gamblers to join and to play. At Slotastic casino players from the United States, the United Kingdom, much of Europe, Israel, sections of Asia and Australia can't join. Many other areas of the world are free to use the casino's services though. If you aren't on the complete list you should have no trouble joining and playing on the site.
Slotastic Casino Has all the Standard Casino Games
This well-known online casino features all the different casino games that you would expect from an online casino. After joining up with the site you'll have access to hundreds of different slot games of all different types. There are video poker games, table games, specialty games and more to choose from. Between all the different game options that there are there is something for everyone. Take the time to look through all the different options and you'll see just how versatile the selections are like we did.
Slots are a Highlight for Slotastic Casino
As the name of the site suggests, Slotastic casino offers an excellent selection of slot games to choose from. If you take the time to become a member of this casino you'll have hundreds of vibrant slots to play around with. Slots of all different themes and types are available on the site. Lots of classic slots serve as a relaxation tool, while the dynamic video slots are more for entertainment. The progressive jackpot slot games offer hope for winning big, and all the new slot released keep things interesting. There are even some slot tournaments that will keep you interested when you're tired of the standard slot experience. Between all the different slot features available at this casino it's nearly impossible not to find something that you're interested in. If you're joining a website to play slot games, Slotastic is a good option.
Bank on it Slots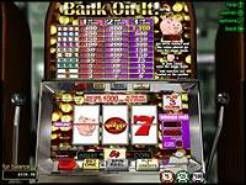 Bank on it is a unique classic slot game designed by Realtime Gaming that gives players a chance to win some impressive prize payouts while also playing for money that they stash away. Each time you spin the reels in this slot game you have a chance of getting three blank symbols and putting money away in the Piggy Bank. This money gets stashed until you finally unlock it and get a prize payout. Getting three of the Piggy Bank symbols while wagering the maximum amount will trigger the special Piggy Bank feature and you'll unlock all the money you saved up. With a maximum prize payout of 1,400 coins and a pretty decent set of classic slot symbols this slot game has a lot of promise. It won't appeal to gamblers that don't enjoy the simplicity of a classic slot, but for everyone else it's a basic game with some good payouts.
Bonkers Slots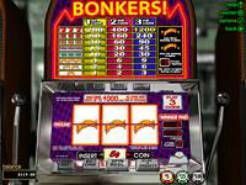 Bonkers is the progressive jackpot classic slot game from Realtime Gaming that will have you playing for thousands of dollars as you spin through one round after the next. While playing this slot game you'll have the opportunity to win hundreds of coins from fixed payouts, or to walk away with thousands of dollars if you get the three jackpot symbols while wagering the maximum amount of money. You can bet between $0.05 and $15.00 per spin and could win more than $10,000 with enough luck. This slot game is simple to play though hit looks a bit dated compared to other classic slots we've played in the past. Still, if you're looking for a classic slot game with a large prize opportunity Bonkers could be a good option for you.
Crazy Dragon Slots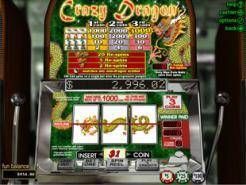 Crazy Dragon is a rather unique progressive jackpot classic slot game from Realtime Gaming that offers players a variety of exciting symbols, a chance at re-spins and a progressive jackpot payout worth tens of thousands of dollars. Gamblers must wager between $1.00 and $3.00 with each spin they complete of this slot game and there are no other wagering options available. This fact will keep many gamblers from trying this slot, but it's worth testing if you can afford it. Getting one or more of the Dragon symbols that stretch across the reels will reward you with between 2 and 20 re-spins depending on how many dragon segments that you get. The slot also has a progressive jackpot payout worth tens of thousands of dollars and there are two ways to trigger the payout. The first is to get three koi symbols on the main payline of the slot while wagering the maximum amount. The other way to win the progressive jackpot is by winning a total of 100 free spins or more. Do that and you'll be rewarded with the big win. This slot game offers enough features to make it interesting to even gamblers that don't like classic slots, which is why we recommend it to everyone.
Diamond Mine Slots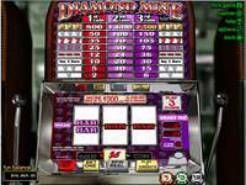 Diamond Mine is the type of slot game you would expect if you played a classic slot. It's simple, and straight to the point. You can wager between one and three coins for betting limits of $0.05 to $15.00 per spin when playing this game. All the wins you get while playing will be straight off the pay table and there aren't any bonus features at all. The top payout is worth 2,500 coins or up to $12,500 which isn't bad, but isn't amazing either. If you're searching for a simple slot game to explore, this is a good option, but many gamblers will find it to be boring.
Diamond Mine Deluxe Slots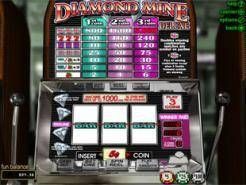 Diamond Mine Deluxe is Realtime Gaming's remake of their original diamond mine game. This slot packs in a few fun surprises and a bigger fixed payout to make it more exciting to play overall than the original. You can wager between $0.05 and $15.00 per spin by betting between one and three coins and when you bet the maximum amount there's a lot of cash that you can win. The most valuable 2x symbol is the wild and multiplies the prize value by 2x or 4x if there are two symbols involved. This symbol helps you uncover bigger wins and makes the standard payouts more exciting as well. The wilds are also the key to the top fixed jackpot worth 3,000 coins if you're wagering three coins per spin. That's worth up to $15,000 at the most and that's a pretty decent prize payout. Thanks to the top jackpot value and the 2x wilds this classic slot is fun to play, though it might be a bit basic for some gamblers.
Lucky Lightning Slots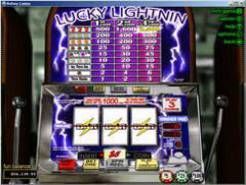 Lucky Lightning is a generic classic slot game offered by Realtime Gaming. The slot game features a pair of lightning bolts streaking down either side of the reels. The wager limits are between $0.05 and $15.00 per spin and it's possible to win as much as 2,500 coins from a single spin with three coins wagered on the payline. There aren't any interesting features in this slot and you'll be depending on scatter wins to carry you through this game while you try for the big red 7's prize combination. With a top prize value of $12,500 this game is just okay and is only suitable for gamblers after a simple slot.
Operation M.Y.O.W Slots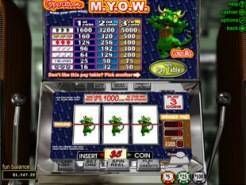 Operation M.Y.O.W. is a unique classic slot themed a variety of cat characters. This game offers a variety of different pay tables for you to choose from depending on your risk tolerance and what you hope to get out of the game. Keep it at the most basic table for frequent wins and easy prizes, or turn it up to the maximum table for a chance to win up to 5,000 coins on a single spin. With a top coin value of $5.00 you could win as much as $25,000 with this slot game on just one spin of the reels. This game is a lot of fun and even gamblers that aren't familiar with classic slot games, or that don't like them, might enjoy spending some time testing this out.
Sevens and Stripes Slots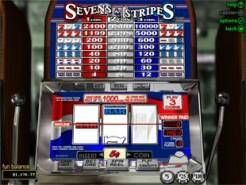 Sevens and Strips is a standard Realtime Gaming classic slot with one feature that helps it stand out in a big way, a massive top fixed jackpot payout. If you're one of the lucky players that manages to get a red 7 on the first reel, a white on the second and a blue on the third, you'll walk away with up to 10,000 coins. That's a whole lot of cash if you're wagering the maximum amount of $15.00. You could win up to $50,000 from this jackpot. Even the next best payout from three of the red 7 symbols would reward you with 5,000 coins or up to $25,000 in a cash payout. The game doesn't have any special features and all the wins you unlock come straight from the payline itself. It's still a worthwhile classic slot game to play though.
Play for Fun and For Free
There's no reason to play for real money at the casino if you don't want to do so. The games on the site are offered for free to the players that just want to play for entertainment. As a new gambler on the platform you can access most of the different games while using a play money balance. This is an excellent feature that every casino should offer, because you can take the time to get familiar with different games before deciding to play it with real money later on.
Real Money Wagering is an Exciting Choice
As opposed to other casinos that force gamblers to wager real money the moment they begin testing out the games, Slotastic casino presents real money wagering as an option rather than a requirement. Because of that you can decide whether or not you want to risk money, and you can really focus on the opportunity to win real prize money rather than play money. This makes wagering on the site that much more exciting and it's another positive about the site itself.
Just Okay Welcome Bonus Offers
In terms of welcome bonuses, the offers available at Slotastic casino are just alright. When you start playing at the casino you can get up to a 150% deposit bonus offer that you can cash in for some added money. This bonus will help boost your account initially, but it's much smaller than what some other casinos are offering today. This is a potential negative for Slotastic. The site offers free spins as well as the deposit match bonus, but even with those perks it isn't all that impressive compared to other options available today.
Ongoing Rewards Worth Playing for
Slotastic starts to stand out compared to other online casinos for its weekly and daily reward opportunities. Daily free spins make coming back worth it every single day. There are also special weekly and weekend bonus offers that you can leverage to keep more bonus money coming in. These ongoing offers are predictable and make it easy for you to make the most of free money whenever possible.
Exclusive Offers to Watch for
Slotastic casino doesn't just offer regular bonuses that are ongoing and welcome bonuses, the site also offers limited time bonus offers. These bonuses are often for special events and they help to change up the site and what gamblers can expect when they sign into their accounts. This is one exciting aspect of playing at Slotastic casino that we really enjoyed. If you like ever-changing promotional offers the exclusive bonuses are the most exciting of all.
Some Offers Require Coupon Codes
There are coupon codes tied to specific offers and other codes that aren't tied to the bonus offers. It's up to you as a gambler on the site to make note of the codes for the bonuses that you want to use and to enter them in when making a deposit. The codes are simple to use, but gathering them up is an extra step that other casinos don't necessarily require.
Rewarding Tournament Opportunities
Gamblers that decide to spend some time at Slotastic casino can unlock serious prize-winning opportunities using the different slot tournaments. There are slot tournaments released regularly that give players a chance to win without risking much money. They're designed to make playing at the casino more entertaining and we were impressed with how much diversity there was with the different tournaments available.
Big and Small Payouts
With so many different game options available at Slotastic Casino it's possible to play games specifically for the type of prize payouts you are interested in. This wide variety of prize paying opportunities is a perk of playing at this casino. With so many different types of games to pick and choose between there is a whole lot of flexibility for you to work with that can help improve your wagering experience while at Slotastic.
Promotions and VIP Program Offer Rewards
There are ongoing rewards available at Slotastic casino thanks to the different promotions that always seem to be running as well as the VIP program. Gamblers that spend time at the casino have lots of chances to unlock some bonus cash and expand their bankrolls even when not gambling. With so many different perks available on the site it's easy to qualify for something with nearly every visit to the site.
Play on Mobile Instantly or with the Android App
There are two different ways to experience the different games from Slotastic on mobile devices. The first, and most convenient option, is to just visit the casino in the web browser of your mobile device. Do that and most of the different games will play just fine right in that browser. For a more traditional mobile experience gamblers can download the Android app and play Slotastic through the app. The app works on tablets and smartphones but won't work on non-Android devices.
A Web Based App
Slotastic casino is held on a web-based platform that you can visit and make use of whenever you want to place wagers and gamble online. If you're interested in placing a wager you can do that conveniently right in your web browser as a member of the casino. This is the perk of playing at Slotastic if you want to use multiple devices, you enjoy mobile wagering or you just don't like software downloads.
Forget about Playing without Registration
It's necessary to register if you want to play any of the games at this online casino, which many people aren't happy about when they try the site. There are free-to-play games at Slotastic casino, but accessing them still requires going through the registration process. Fortunately it's quick and easy and doesn't cost anything. If you want to try the casino and you aren't interested in spending money, you still have to register for your own person account first.
Slotastic Has its Own Affiliate Program
The casino has its own personal affiliate program that marketers can become part of if they are interested in marketing the casino specifically. Since the casino has its own affiliate program it's the only casino on that platform. If you like Slotastic casino and are confident in your ability to market it it's possible to get up to a 45% revenue share by marketing the site. Ample marketing materials are provided as well as a dedicated contact that you can rely on for help.
It's Not for Sports Betting
Some casinos are designed with sports betting in mind as well as offering decent casino games. That's not the case with Slotastic casino. This site is focused primarily on slot games and takes a bit of time to offer decent table games ,video poker games and more to work with. the site isn't licensed to offer sports wagering options, and it doesn't focus on that service at all either.
We Missed Live Dealer Services
The one feature we really missed while testing Slotastic casino are the live dealer games. Those games are entertaining in a different way than arcade-style table games are. Even though you're playing the same game, being able to see that dealer helps to enrichen the game. We were upset when we found out no live dealer games are available on the casino, but the site still offers a good mix of games to pick and choose from to help keep you having fun.
Depositing Money is Simple
At Slotastic casino real effort was put into making depositing money quick and easy to do. Even inexperienced gamblers should be comfortable using Visa, MasterCard and American Express enough to make an initial deposit into your casino account. eWallet services such as Skrill, Neteller and EcoPayz is also supported by the casino as well as Neosurf as a deposit method. Bitcoin is the final deposit method offered, and it's either the best or worst option to gamblers depending on how they feel about cryptocurrency.
Activating a Payout is Simple
Taking a payout from Slotastic casino is just as simple as making a deposit but the process takes longer to go through. Skrill, Neteller and Ecopayz are all still supported for withdrawals. These methods are quick and easy to use for this purpose. It's possible to get money out of your account using a wire transfer to your bank or a check from the casino that you cash or deposit. The mixture of withdrawal methods makes it easy to take out your money from your account when you're ready to make use of it.
Bitcoin is Supported as the Only Cryptocurrency Banking Tool
Whether you're putting money in or taking it out, Bitcoin can be used for this purpose. Bitcoin is the preferred tool for many gamblers because it helps preserve privacy and can help move money around more efficiently as well. There aren't any special promotions linked to using Bitcoin, but there are some definite perks.
A Leading Support Team
Slotastic casino has one of the top support teams available to online gamblers that want to place bets. Asking for help is as simple as sending out an email, making a phone call or talking through the live chat platform. There's an FAQ section to look for answers and so many gamblers can reach out for help to the casino in mere moments by using one of the available tools to do so.

Slotastic Casino is an entertaining casino to call home as an online gambler. There are lots of games to choose from and slots are offered in so many different forms and with tournaments that you'll always be busy with them. The site isn't for everyone though. If you love live dealer games or sports betting you'll hate it there. Take a moment to look at your options and then decide on the one that fits your needs. If Slotastic casino is the option then go for it.